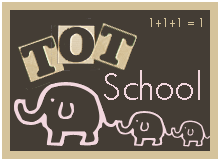 Jack is 24 months old
Now that Jack is two, he and I will start working on some slightly more "formal" pre-school readiness activities as they interest him. While we are planning, at this point in time, to send him to preschool two days a week next year, I've always held in the back of my mind that I might like homeschooling, so this will be a beginning step towards seeing how Jack and I work together academically.
Does it sound like I'm taking my two year old's education too seriously? I'm not! No, really! The whole idea behind Tot School is that it's basically just exposing early learning skills through FUN play. Click on that link for a great explanation of Tot School, and the button at the top to see the Tot School Blog.
I'll share a little more of my journey with Jack in the coming weeks, including how I'm planning, what resources I'm using, etc. (Can you tell I'm a teacher at heart ?! Planning always was one of my favorite parts. :-)
But there's plenty of time for all of that later! Here's what we did in Tot School this week! I didn't do a great job of photo documenting, but here's what I did catch...
I made Pumpkin Spice scented playdough, using this recipe and adding orange food coloring and 2 t of pumpkin pie seasoning. I gave Jack a bit to play with and saved the rest in washed out yogurt containers. I let him have a variety of tools, and he practiced...
rolling,
cutting,
making circle impressions with a Duplo,
and finally, sprinkling colored sugar and mixing it in.
While playing with Daddy's old fire station Little People, I broke out the fireman costume I bought Jack on clearance after Halloween this year. He loved dressing up, and we practiced using the clasps.
He spent lots of time "playing cars" this week, and Daddy showed him how to line the cars up like a train.
Jack also spent lots of time on his new tricycle, and even learned to use the pedals a little bit! This is one of the shots taken today after church while we were working on getting some Christmas card shots!
Tune in next week for my slightly more organized version!